Calpe Oktoberfest - Beer Festival 2017 | Calpe Fiesta Calendar | Calpe Online 24
Calpe Oktoberfest - Beer Festival - 2018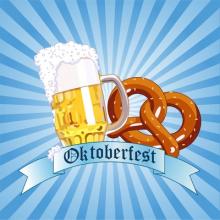 Th
e "Oktoberfest" is the Calpe Beer festival, organised by the Carnival Club of Calpe (Club Creativo de Calpe).
During the ten days of fiesta, the tent will open to the public at 18.00 hours, the music will start playing an hour later.
As usual, in this spectacular celebration of a taste of Germany, it is expected that over 10,000 people will pass through the tent during the 10 days of celebration.
Tables can be reserved by calling +34 601 171 481 (11-13h 18-20h).
---
Here is the calendar of events in 2017 as a guide:
Wednesday, 25th October 2017
20:00 Opening. "Fassanstich" by the mayor, presentation of the Oktoberfest Queen 2017

Thursday, 26th October 2017
"Oktoberfest Nonstop": Typical "Wiesn-Music" and international Hits with the "Steinsberg Musikanten"

Friday, 27th October 2017
Oktoberfest hits of the past 20 years with Denise

Saturday, 28th October 2017
Oktoberfest Party with Manu and Steinsberger

Sunday, 29th October 2017
11:00 - 14:00: morning-pint with traditional music and Bavarian sausage
Evening: Oktoberfest Night-Fever-Party with the "Steinsberger"

Monday, 30th October 2017


Oktoberfest hits with Denise and the "Steinsberger"



Tuesday, 31st October 2017
The best Oktoberfest hits of the past 20 years with the "Steinsberger".
Competition: "Maßkrug stemmen"

Wednesday, 1st November 2017
Closing day

Thursday, 2nd November 2017
Mood and fun with the "Steinsberger".
Milking-Competition: 1st Prize: 200 € cash

Friday, 3rd November 2017
"Zicke Zacke Heu Heu" - Music with the "Steinsberger"

Saturday, 5th November 2017
Oktoberfest party with the "Steinsberger", music of 70/80/90th with Denise

Sunday, 5th November 2017
From 11:00 morning-pint with Live Music, end of the Oktoberfest at 18:00


subject to change
Free admission from 18:00
The CCC is not liable for property damage and personal injury