Moroccan Experience is a business based on the Costa Blanca where you can experience "The Real Morocco".

Whether you want to go to Morocco or let Morocco come to you, "Moroccan Experience" can provide a unique & exciting experience.

The business offers Moroccan Holidays, as well as Moroccan themed parties, and is run by Abdel & Ivy Denaili, who provide a truly personal service.

---
About "Moroccan Experience"

"Moroccan Experience" is run by Abdel & Ivy Denaili, who are based in Calpe, Costa Blanca but travel frequently to Morocco for business and pleasure.

Abdel is a former Marrakech Head Tourist Guide and in a stronger position than most to dictate better prices at the various souks. As testament to this a souk owner recently remarked "if someone walks past Abdel without saying hello, it's likely they don't come from Marrakech".

Ivy organises the itinerary and travel arrangements for their escorted tours as well as arranging the theme nights.

---
Marrakech Trips

Moroccan Experience offer trips to Marrakech with your own personal tour guide, where you see the real Morocco, with real Moroccan people and staying in an authentic Moroccan house.

The accommodation is in a riad - a typical Moroccan house, elegantly decorated with friendly and hospitable staff.

Trips are organised for a minimum of 6 up to a maximum of 14 people, and are available from September through to the end of May.

Prices start at 699€ per person including flights from Spain, accommodation, your personal tour guide for the duration of the trip and all included excursions.

Trips for people living outside of Spain are also available.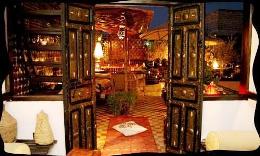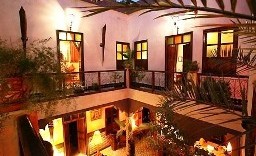 ---
Moroccan Theme Nights

Moroccan Experience organise authentic themed evenings for Anniversaries, Birthdays & Parties.

You can book your own Moroccan Party Night with a traditional menu and mini souk selling authentic goods: jewellery, leather, scarves, lamps, mirrors etc. Moroccan Experience can even provide a belly dancer and authentic music.

Ivy Denaili, your English Hostess and her Moroccan Partner Abdel Denaili bring Magical Morocco to you with Traditional Arabian Themed Nights at your selected venue in Spain.

Menus can be tailored to meet the individual requirements of each group - here is a sample menu:





---
Artisan Craft Products

The wonderful colours and textures of Moroccan artisan have become very popular over the last few years and enhance any home.

All stock is imported directly from Marrakech so that you may purchase authentic products at reasonable prices.

The range includes jewellery, handbags, lamps, rugs, belts, mirrors, wall decorations, candle holders, cushions and soft furnishings.

Contact Ivy for details of Moroccan Craft Fairs being held by Moroccan Experience on the Costa Blanca. If you would like to host an Artisan Craft Fair, call Ivy on 633 261 053.